TOP POSITION:
Directly on the skislopes>Sellaronda
Cross country in only 500m
Ideal starting point for hiking
Many nice walks from the house
5 MTB-tracks just below the house
Extremely close to Vallunga-UNESCO

Close to the centre
Holidays without car

MARVELLOUS LOCATION:
In a typical alpine landscape
Very nice panorama, romantic
Plenty of space, nature, peace

LOVELY FLATS:
Panorama-flat 4-6 beds
Large garden-flat 4-6 beds
Small garden-flat 1-3 beds
Characteristics
Services
Equipment

PRICES
CONTACT
LINKS
FACEBOOK

IF YOU WANT TO KNOW MORE ...

©; VATnumber: 00255530214.



Sellaronda + cable car Dantercepies + 6 skilifts within 300 m, chair lift at 500 m, all connected.
Direct skiing connection to all the areas of Val Gardena, Alta Badia, Arabba, Val di Fassa, etc.
With the skis put on from the villa and back home during the whole holidays: no car, hotelshuttle, timetables,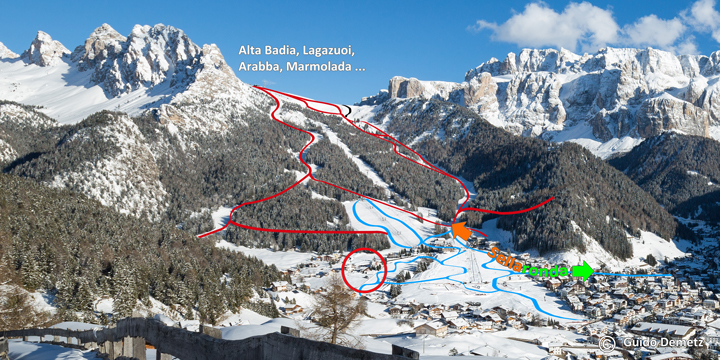 Ideal for kids:
- ski slope + small competition track of the ski-school in front of house;
- more light ski slopes + snow park very close, all connected.




Starting with the skis put on in the morning ...






...and relaxing ad entertaining after skiing...